Book Pam and Make Your Next Event a Success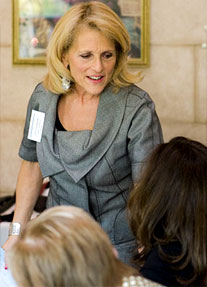 Pam's charm, warmth and passion for helping your audience look their best makes her the ideal speaker. Through her dynamic presentations, Pam shares with audiences the essential elements needed for successful dressing.
Your audience will walk away with practical advice to help them look beautiful at any size – any age – any time!
Pam is available for speaking engagements for corporations, associations, seminars and events. Contact Pam to inquire about speaking at your next event.
Successful People Look Polished & Professional
Pam's expertise working with employees, both men and women, helps them to make decisions that ensure they are representing their company in the best possible way. A Positive Reflections
Corporate Seminar and Workshop begins with a presentation, followed by a hands-on
demonstration, including the following:
The Importance of a Good First Impression
Presenting a Polished and Professional Image
Confidence in Dressing
Do's and Don'ts for office dressing
Your Style, Your Image, Your Brand
Business Casual-vs-Business Professional
Value of Wardrobe Planning in our busy world
Developing a well-coordinated wardrobe on a budget
Creating new outfits from existing clothing in your closet
Individual Employee Consultations
Pam is available for Private Image Consultations, during which she'll teach your employees the essential elements of successful dressing, and provide them with practical advice on how to achieve a confident, polished, and "put together" appearance.
The ladies have been talking about last night's event all morning! We have taken some of the tips we learned and applied them to our outfits today. We're all little success stories! We knew it would be a great event, but it was a million times better than we imagined!
Dawn Lusk,
Frist Reserve, Greenwich CT
What a wonderful program you produced for our Lunch & Learn series. I learned a great deal as did all of the participants. Thank you for your time, expertise and amazing work. I look forward to a great working relationship in partnering our expertise.
Karen A. Thomas,
Ciesco Catering Company, LLC, Torrington CT