Are you ready to try some new things from the fall/winter fashion offerings?
Whether you sample one item or several, there are some tantalizing treats to choose from.
For people who've been wondering where brown went, it's back! It comes in all shades of chocolate and on into burnt caramel. Time to stock your shoe and handbag shelves with this rich color or choose a few separates to blend into your existing wardrobe.
Boot: Steve madden, Handbag: Tory birch, Shoe: Louise Et. Cie, Jumpsuit: Emmy, Necklace Bess Heitner
Floral prints just keep coming. Plan to wear floral print dresses with dark backgrounds. They're great paired with a colored tight and a boot.Or just wear these feminine dresses to a  business function or Holiday Party.
Dresses are from: Sachin & Babi & LK Bennett
We grew up loving velvet. Velvet has been spanning the seasons. People even wore velvet this Spring and into the Summer. Look for it this Fall/ Winter season in dresses blouses and jackets. How do you feel about velvet shoes?
Items are from Nordstrom and Modcloth
There is an array of plaids just waiting for you to enjoy and try. Classic plaids of different colorations are being combined in the same outfit.
For instance you can wear a blue plaid pant with a red plaid jacket. Or wear a red plaid boots with a blue plaid dress. It may sound less than appetizing but you won't know until you try it.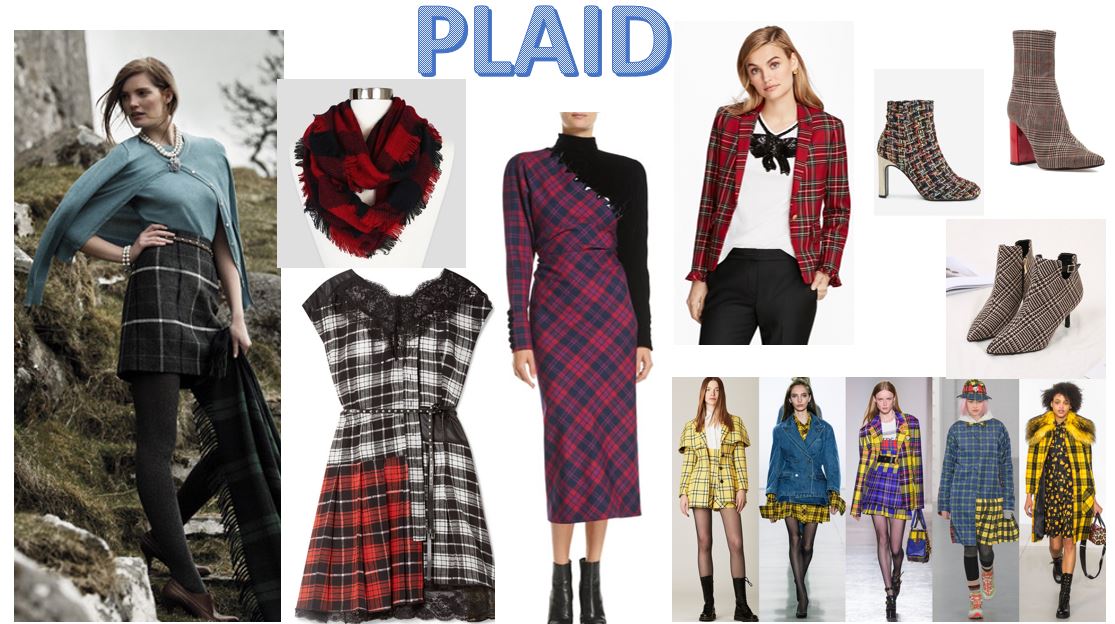 Plaids are from Neiman Marcus, Marc Jacobs, Brooks Brothers, Jeffrey Campbell, Dressywoman.com,   @sarabattaglia/Instagram, Imaxtree (4)
So glad that you can choose from any pant leg, width style you choose this season.  Pants of any length or width are available.
Wide, pleat front, flairs, cigarette, printed pants and painted pants.If you wear pants well, get ready for a smorgasbord.
I added just some sampling to wet your palette.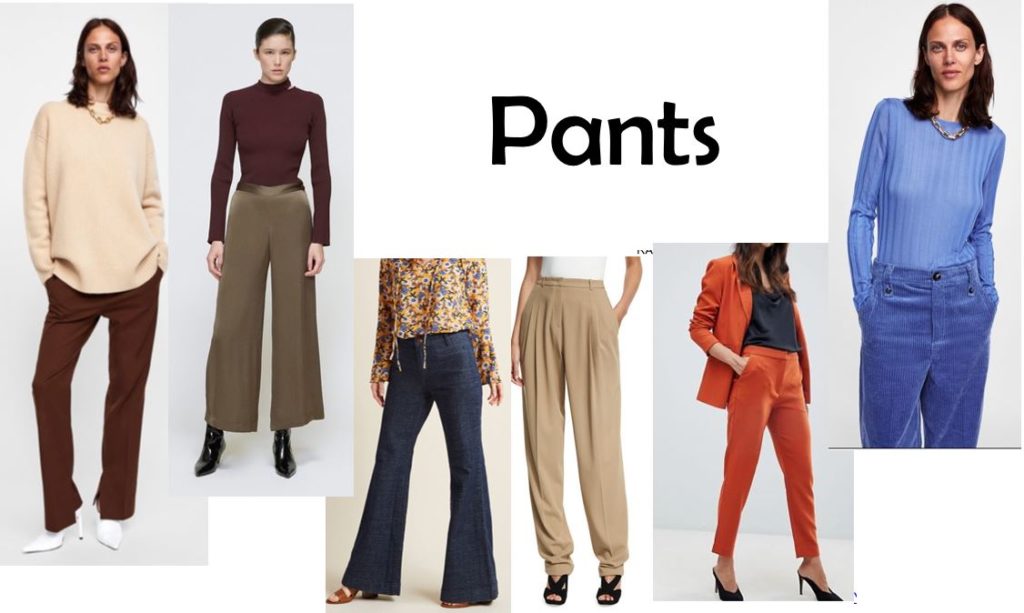 Pants are from Zara, Y.A.S.,Rachel Comey, Wrangler and Michael Kors
I hope the above ideas inspire you to select a few statement pieces for your fall wardrobe.  If you need any help just give me a call.  Looking forward to some cooler temperatures and some beautiful days ahead.
Pam